For a commercial shoot (which can be seen here or at the end of this article) we used the GH5 on the Ikan Beholder EC1 Gimbal and soon realized, that the stability of our shots could be improved by the camera's Optical Image Stabilization (OIS). Therefore we shot a short test to find out how different camera settings would impact the quality of the OIS.
Watch this video on Youtube

As you can see in the video, we tested the following settings: Full HD, 4K and Panasonic's C4K (4096×2160), as well as different frame rates, each time with activated OIS. There is also one shot with the optical stabilization switched off.
The Beholder EC1 cannot eliminate all of the small vibrations or jitters, but that is where the GH5's optical stabilization comes in. It improved the smoothness of our shots a lot and seems to be working most effective in Full HD. There are almost no visible vibrations in the steps of the camera operator.
In 4K mode the OIS cannot compensate for the steps as good as in FHD, but generally speaking it still looks pretty good, especially when filming a moving object and you won't feel jitter that much anyway. We also found that it helps to turn the camera around and move forward (filming over your shoulder), which is easily achieved by the GH5's swivelling display. Moving forward made it easier for us to compensate for jitter and vibrations.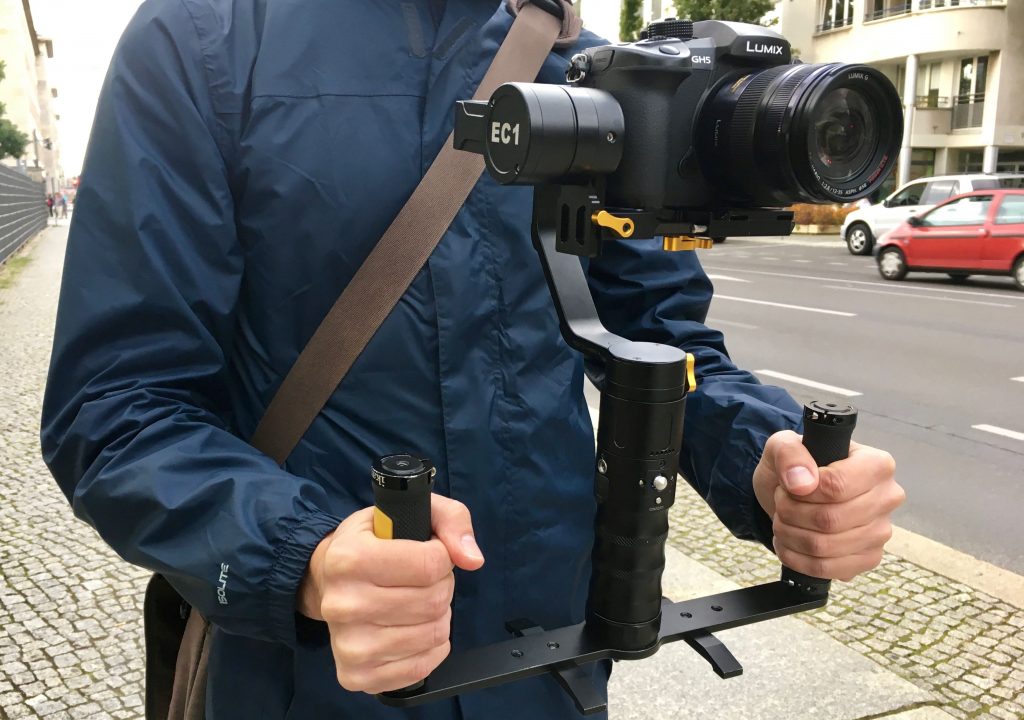 Modes of operation
We used the Ikan Beholder exclusively with the Dual Grip Handle (can be bought seperately). For low shots close to the ground you can operate the gimbal up-side-down, it will automatically adjust it's position.
The following modes of operation are available: Profile 1 (Lock Mode) will hold the direction and won't pan, tilt or roll. Profile 2 (Pan Follow Mode) will follow your panning but won't tilt. Profile 3 (Follow Mode) will follow pan and tilt. Set to profile 4 (3 Axis Follow Mode) the camera will follow pan, tilt and roll. Profile 5 is for shooting time lapse .
You can adjust the direction of the camera by either using the little joystick or, even easier, by holden the camera for two seconds in the desired direction.
Overall we were very happy with the Ikan Beholder EC1 Gimbal in combination with the GH5 (and it's OIS). At the end of the video you will see a short clip of our commercial we used this setup for. Once our commercial is finished we will write another blog post about some more ways to use this gimbal to increase the production value on a low budget project.
Click here to watch and read about the production of our commercial "VINES"
Click here for our GH5 Autofocus Test
Click here for a first VFX Test for our Jewelry Commercial