To create a commercial for 3D printed jewelry, I am collaborating with 3D artist/filmmaker Noah Hähnel to showcase his jewelry in a fairy-tale-like fashion. The jewelry is designed in Cinema 4D (C4D) and printed into different materials. In the commercial vines are magically coming to life and eventually turn into jewelry. (Update: you can watch the finished film here).
This first test was done to test C4D's built-in 3D tracker and to get a first glimpse at the vines (also done in C4D) twining around a roll of paper towels.
The plate was shot in my kitchen (the final commercial is supposed to take place in a forest) with a handheld Canon 70D.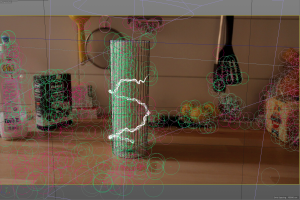 Next, the clip was imported inside C4D to resolve the camera movement with the 3D tracker. In this case, the automatic tracking worked out fine, but in many cases, you have to work manually. It is always handy to know the focal length, the shutter speed and the sensor size of the camera when you are working with 3D tracking.
Next up the roll of paper towels and the table had to rebuild digitally and then placed correctly inside the 3D space. The vines are made out of several objects that are animated onto a spline. Finally, the CG lights were placed into the scene as realistic as possible to mimic the natural light of the original plate.
The final clip was exported in several layers (Multi Pass). The compositing was done in After Effects, where – thanks to Multi Pass – details such as shadows could be fine-tuned and effects like motion blur were added.
Click here to watch and read about our promotional short film "VINES"