The new German TV series Krümelmonsters Foodie Truck mit Steffen Henssler, which I directed and also wrote some scripts for, is now streaming on RTL+. A broadcast on regular TV will follow February 5 on SuperRTL.
Each of the thirteen episodes (22 minutes each) tells a little story about cooking and food. In addition to TV chef Steffen Henssler, Cookie Monster (puppeteered by Carsten Morar-Haffke) and Gonger (Martin Reinl) are the protagonists of the series. The two monsters have been cooking for several years in a 5-minute segment on Sesame Street in the US.
At the beginning of each episode, Cookie Monster, Gonger and Steffen receive a video call from a child with a special food request. One of the three always has an idea of what to prepare. But usually one ingredient is missing, so Cookie Monster and Gonger set out to get that ingredient. They visit farms, plantations and a mill, among other places. When they return they start preparing the food together with Steffen.
As soon as the dish is ready, the two Muppets deliver the food to the children with their foodie truck and meet them in different places – sometimes in an allotment, sometimes at a train station or even at the children's homes. And some kids come over to eat, too.
In addition, the three foodies get frequent visits from celebrity guests (including Steven Gätjen, Deine Freunde, Jana Ina Zarrella) and friends from Sesame Street (Ernie and Bert, Abby, Grover and Elmo).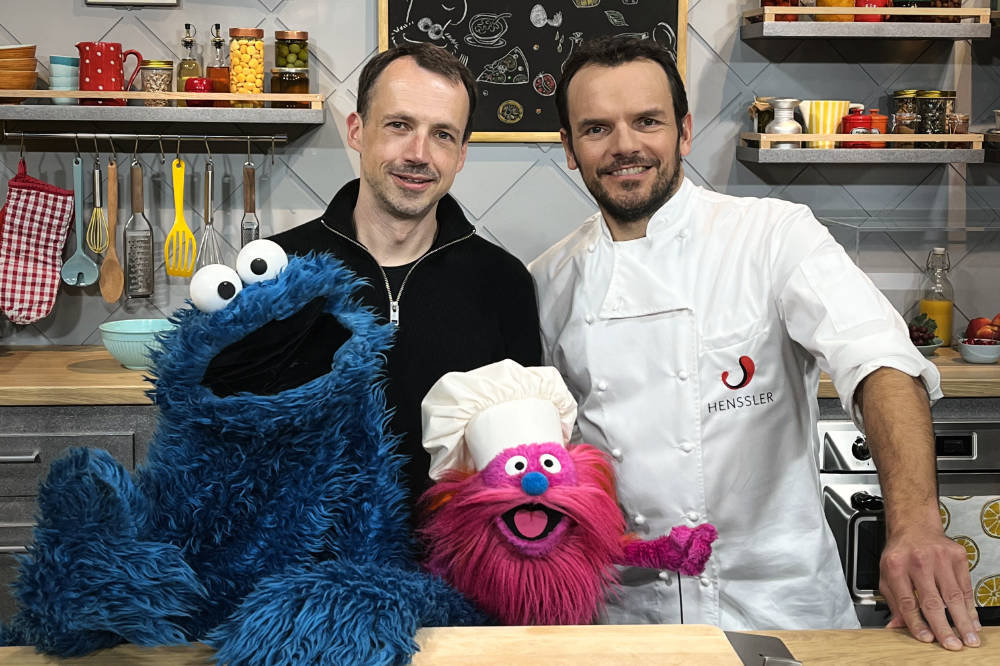 We filmed for thirteen days at Studio Hamburg in the fall of 2022. The deliveries and visits to the children were shot on location in Hamburg and Berlin on five days. A small second team shot the explanatory film segments.
The series is produced by MoveMe GmbH with Sesame Workshop, RTL+ and SuperRTL.